You're about to enter the remastered Budget Backpacking 101 guide. We can call it sincerity in publication or we can call it a cool narrative technique but, either way, I'm admitting that this is a super-charged version of our original piece.
Why am I telling you that? Because it's important to respect change. Arrghhh, change! Man, you are either a broke-ass budget backpacker or about to be a broke-ass budget backpacker so you better get used to change.
Enclosed in this piece you'll still find the original tips for backpacking on a budget. But, to me – The Remasterer (god, that's such a cool name I just gave myself) – that feels like a middle: a middle of the story.
Before you hit the road travelling abroad on the cheap (with our super-charged budget backpacking tips), there's a beginning phase – preparation for the journey. Knowledge is power.
And after you come back from backpacking around the world with no money (because you'll probably be bone dry by that point) there's a post-journey phase too. Of course, there's a post-journey phase! If you think that it's as simple as throwing yourself to the wind for a year and then just 'going back home'…
Heh.
DN Tips 101: Stay somewhere inspiring… Somewhere like Tribal Bali!
Looking to find the perfect place to hustle, work, rest and play? Welcome to Tribal Hostel, the world's best co-working hostel… Bali's first custom-designed, purpose-built digital nomad friendly hostel is now open! Mingle, share inspiration and find your tribe whilst working in the TREMENDOUSLY HUGE co-working space or soaking in some sun in the garden or bar… There's a gigantic pool as well so it's always time for a refreshing dip to break up the day's hustle. Plus: epic food, legendary coffee and awesome cocktails! What are you waiting for? Check it out…
So this is it: your full-blown 101 to backpacking on a budget. Let's get you away from the daily existential grind of your meaningless existence and out there into the world where the colours are just a little bit brighter and the food tastes just a little bit better.
If you're interested to see how backpacking and the definition of "being a backpacker" have changed over recent years, make sure to have a quick lil peek at our backpacker statistics guide.
Now let's find out how to travel the world on a budget!
Right, so you've decided to fuck off! There's a semi-decent chance you've even told all your friends and family that you're fucking off 'indefinitely'. Awesome, well done! That's the first best step in the greatest decision you've ever made.
Now, you know you're going to take the plunge into travelling life.
I want to travel the world; where do I start?
Let's talk finances.
How Much Does it Cost to Travel the World?
If you think I'm going to give you the exact digits, you're dreaming, mate. There are so many variables into how much it costs to travel the world that it makes my eyeballs rotate back into my skull.
Let's break it down into more specific (i.e. better) questions:
Could I travel the world for a year with $10,000?
Good question! The answer? Most definitely, without a doubt, yep! I can confirm it is super possible and you can even take your budget trip a lot further than that. In fact, I'd argue that travelling the world for a year will teach you the true value of $10,000 and just how far that can take you. That is a helluva lot of money.
What variables affect my budget?
There are lots and many of them you'll discover for yourself as you level-up in the no-frills cheap travel lifestyle. I would say the three most influencing variables are: your commitment to the cause of grungy dirtbag-style backpacking, your ingenuity and interpersonal abilities, and your destination choices for your cheap trip abroad (more to come on that).
What am I aiming for with a daily budget?
Again, that largely hinges on the variables. But what's the gold standard? Less than 10 dollarydoos a day (that's USD, adjust appropriately).
And yep, that is totally 100% possible. It's super-possible in the majestic bowels of India or backpacking around the lush greens of Cambodia. It's also possible in the crippling priciness of, for example, Australia, New Zealand, and Japan. I know because I've done it.
Choosing your Budget Travel Destination: Cheapest Countries in the World to Travel
The world is not equal. That's another lesson you will learn on your journey. The price of one cigarette in Oz can buy you a meal in India with rupees left over for the homeless man parked opposite the Dhaba. Welcome to Earth.
Now, as tragic as that is (we'll get to ethics and system-shock too), it's also a key component of your budget travels. Your $10 daily travel budget simply carries you so much further in some places.
Some of the best budget vacation options are obvious: the cheap places to travel in Southeast Asia, or Central and South America, etc. Places where the cost of living is lower and our western currencies go a lot further. There are also less obvious choices too like the cheap places to travel in Europe (there are plenty of those as well).
If you're planning your international globe-trots based around the cheapest places to travel, I would recommend our roundup on the subject. I would like to reiterate though, that living in an electricity-less hut without clean drinking water deep in a jungle somewhere is not a necessity for travelling on a budget. It is damn fun though!
Buying Backpacking Gear: To Budget or Not to Budget
It might sound counter-intuitive to spend a buttload of cash on gear before you go backpacking around the world with no money but there is logic in it! One way or another, you will need gear and the right gear can save you money in the long run.
Buying discount or used backpacking gear can mitigate some of these costs but, as with most things in life, there are simply some things that are better to invest in new and expensive. The right purchase before your travels can go a very, very long way.
Preparing your backpacking packing list is important. Here I'm just going to list some of my favourite investments that are going to save you cash.
Quality backpack (duh): Honestly, hands-down, ten-out-of-ten times, I will always recommend an Osprey pack of which I use the Osprey Aether. If my Osprey Aether could provide me with a deep sense of belonging and spiritual fulfilment as well as just being a sexy-beast of a backpack, I'd probably marry it.
A sleep system for crashing outdoors – This means a backpacking tent, sleeping bag, and a sleeping pad. If you are considering budget backpacking gear, I would strongly advise you not to skimp on your sleeping bag; I went with a budget bag for two years and that was an unbelievably stupid choice. A good tent is arguably more acceptable, though a damn good one is going to take you a lot further (and keep you a lot warmer). Also, it may not be for everyone, but I am a strong supporter of the sleeping bag liner game as well.
Backpacking stove – Super important, especially in the pricey first-world countries. You're quickly going to learn the necessity of cooking your own food.
Backpacking hammock – Good for chilling or camping in warmer climates.
Travel Water Bottle – This one is an already obvious must for the environment but not buying purified water all the time is going to save you money too. If you're heading somewhere without clean drinking water available (which is highly likely), you'll be better off investing in a filtered water bottle. The top recommendation for that is the Grayl Geopress.
Travel Money Belt – Not getting robbed also saves you money. Invest in a good money belt for basic safety reasons. It's worth doing, trust me!
Alright, ladies and gentlebread; it's time. The meat and potatoes of your steak and mash. The original tips for backpacking without paying (much). I've tested them, I've relied on them heavily, and I can confirm, they do indeed work.
But that was then and this is now. Time presses on and, of course, art evolves, so now we have even more backpacking hacks and tools with which to refine our craft. Let's do this!
Are you ready to head out and explore the world? Well, you bloody well should go budget travelling but aren't sure exactly how the hell to do it on a budget? Well, we've got a solution for you! Ten solutions to be precise…
Ten tips from the high temple of Backpackistan; tips which will help you stretch your money further so that you can stay on the road for longer and become an expert in the mystical art of budget backpacking!
I've been backpacking around the world for ten years and these tips have helped me to stay on the road whilst spending the bare minimum. I've met colourful characters, seen incredible things, and journeyed to far-flung lands on a budget of just $10 a day.
Many of you veteran budget backpackers will probably already know all this stuff but, if you're brand new to backpacking or you've just run out of money on your travels after a month-long bender, read on to discover how to keep moving…
Before anything else: GET INSURED!
Before we get to the actual tips, there's one last crucial thing you need to invest in before you truly dive into travelling life… and that's bloody travel insurance! Always travel with insurance.
Make sure to get your backpacker insurance sorted before you head off on an adventure! I highly recommend World Nomads.
It's good to get lost sometimes, but it's also good not to get too lost. There are people that want you home in one piece.
There's one travel insurance provider The Broke Backpacker trusts for all his wildest shenanigans… World Nomads!
Click the button below to get a quote on your insurance or read our in-depth review of World Nomads' coverage. And then… let the shenanigans begin. 😉
1. Find a free place to crash!
For most travellers, one of the main costs on the road is accommodation. Hotel beds, and even hostel dorms, quickly add up if you are paying for them every night.
If you're on the road for any real length of time, it's well worth investing in a proper-solid backpacking tent. I've camped all over the world and have seen some truly amazing skies purely because I was out amongst nature rather than crammed into a hostel dorm. I always pack a camping hammock too – it saves me a fortune, is lightweight, and lets me set up pretty much anywhere.
Although I'm a big fan of camping, I don't want to camp every night – especially if I'm travelling somewhere cold. I'm a huge fan of Couchsurfing and have been using this amazing website for years to find free places to stay and to make new friends whilst travelling. So what is Couchsurfing?
Stay at someone's house for free: it really is just that simple! Couchsurfing is an epic way to make new friends and to land on your feet with a social life in a new place. Some of the best experiences I've had on the road have been through Couchsurfing and I thoroughly recommend it to anybody who is travelling on a budget.
I've surfed in lots of far-out countries including Venezuela, Pakistan, and Iran and have found that these are actually the countries where Couchsurfing works the best. These countries don't get too many tourists and hosts will be falling over one another to invite you to crash.
As another option, some budget backpackers travel abroad cheaply by housesitting where they look after somebody's home (and pets – yay) in exchange for a cool place to stay. It's another dope way to get into a place from a local's perspective.
2. Score free transport!
Number two in my budget backpacking tips for beginners is to get your ass on the (side of the) road and start hitchhiking; you can travel huge distances for free – it's easy. Even in a cheap country like India, a bus from Delhi to Manali will set you back at least $20 if you want air-con. In Western terms that wouldn't get you very far but in India, that $20 can rent you a cheap room for a week if you play your cards right. When you're flat broke, stranded, and sleeping a night out at the bus station, you'll remember that $20 you so frivolously wasted on a bus seat…
Hitchhiking gets a bad rep in the West which I suspect is a conspiracy orchestrated by bus and train companies and fuelled by propaganda films about hitchhiking backpackers being murdered in creepy farmhouses. The reality is that far more people are hurt by bus crashes than are hurt through hitchhiking incidents.
The vast majority of people will pick you up either because they are kind or they are just plain curious to speak to a foreigner. Generally, it's not because they want to murder you. Yes, there are hitchhiking horror stories but there are also bus, train, aeroplane and snakes on all-of-the-above horror stories too.
For a full rundown, see my Hitchhiking 101 guide but, in a nutshell, what you need to do is make a sign stating your destination (in both English and the local language) and find a good place to flag down a ride from. When you do find a ride, be sure to attempt conversation and offer to buy your host a drink or make a token contribution towards petrol costs.
It's not always possible to hitchhike and sometimes you'll have to rely on a different way to travel in which case, always aim to take the local transport. Long-distance buses and trains can be affordable, it's just a case of booking a more modest seat rather than the 'Super-Happy-Lucky-Fun Luxury VIP  AC Executive Lounge with Private Shitting Hole' cabin.
As many seasoned backpackers will tell you, the longer you have to travel, and the less rushed your schedule is, the less you will spend. Travel slow and you can travel cheap!
3. Eat local!
From pad thai vendors on the infamous Khao San Road to the tortilla ladies of Antigua, local food is delicious, cheap, and plentiful! If you eat in restaurants aimed at tourists or in international restaurant chains, you will really miss out on some of the best delicacies your destination has to offer. Take to the streets and search out the steaming hole-in-the-walls, the pancake wagons, and the fruit stalls!
Whenever people ask me what my favourite food is, I always answer "Whatever's local… or a burger". Restaurants are expensive and even in cheap countries, they will eventually eat up (pun intended) your budget.
Street food, on the other hand, is cheap, delicious, and a great way to get to grips with the local culture. My advice is to try and find a stall which is busy with local people and then, once you find a good one, keep coming back. The street food dudes usually know how to treat a regular.
It's usually not worth cooking your own food in Asia but when you're travelling in Europe, Australasia or South America you can save a tonne of money by cooking your own meals. You can always buy noodles, pasta and vegetables cheap and if you have a backpacking stove, you can cook no matter where you are.
I often travel with some herbs and spices or a bottle of tabasco sauce to enhance a boring meal. You can still visit cafes and restaurants, just don't get into the habit of making it the default option.
4. Learn To Haggle!
Haggling is the ancient art of negotiating a discount off a souvenir, meal, room, or ride… In some parts of the world, it's possible – or even the expected standard – to haggle for absolutely everything and it's something you'll have to get used to (and good at) to travel the world at cheaper prices. When I first hit the road in India, I quickly learnt that if you didn't haggle you would constantly be paying about seven times more than you should…
My advice is to try haggling on absolutely everything: clothes, souvenirs, hostel rooms, and transport… The worst thing your haggling opponent will do is dig their heels in and there's a good chance you'll save a few bucks otherwise. Remember to keep it light, friendly and fun; you have a much better chance of scoring a discount if you do. Check out my Haggling Guide here for more info on how to out-India the Indians.
Just kidding! No one can out-India the Indians!
5. Network like crazy!
"Your mum's sister's friend's cousin lives in Bangkok? Awesome! …Can I visit?"
This may sound silly but it does work. I've crashed with people that I've only had a very tenuous connection with at best. Whether you make awesome new friends on the road or you know a friend-of-a-friend in the country you're visiting, meeting up with people you know or somewhat-know can be a great way to save cash, bud a new social network, and really get to grips with the place you're exploring!
Networking means new opportunities. People love travellers. They represent freedom, lightness of being, and distant lands. People love meeting travellers, introducing them to their friends, and showing them the ins-and-outs of their city (usually resulting in cheaper local secrets).
People especially love a broke-ass traveller. Broke-ass travellers represent a lack of workable income and a strong desire to work any job for a bed or some petty cash.
If you're good at networking, you'll be in a prime position to pick up work abroad. Whether it's working in a hostel for four hours a day in exchange for bed and board or pulling in hapless tubers on the river of Vang Vieng (still my best job to date) in exchange for a burger, $5, and unlimited beer. There are tons of travel jobs available out there!
6. Get a Job!
Ok, so you worked hard to hit the road and the last thing you want to do is end up working a new job, I totally get it. The good thing about travel jobs though is that you can pick them up for just a week at a time to supplement your income and they tend to be low-stress and pretty damn fun too!
The most obvious choices are bar or hostel work but farm work is another great option for budget backpackers wanting to stretch their cash that bit further. I've worked on farms in Israel and Laos, bars in Turkey and Vietnam, construction projects in Europe and India, and have picked up dozens of other random jobs whilst backpacking. Picking up a job on the road is usually as simple as just spending an afternoon asking around.
You can work at hostels and in exchange for 3-4 hours of work a day, you can get free digs and a free beer too (if you charm them just right). You will often find that backpacker jobs are not even like real jobs; they are so much more relaxed and informal that it doesn't even feel like work.
There are also services you can use to find volunteering gigs for board and a feed. If you're wondering how to travel the world for free, then being a volunteer is one of the absolute best ways. A lot of the time you'll be travelling without paying for anything; just working and chilling. It's a cheap and slow style of life.
We recommend Worldpackers as your service to find volunteering opportunities. They're cheap (even cheaper with our code) and they provide a reliable service. You can even get a $10 discount by using the code BROKEBACKPACKER. Failing that, you can always just ask around.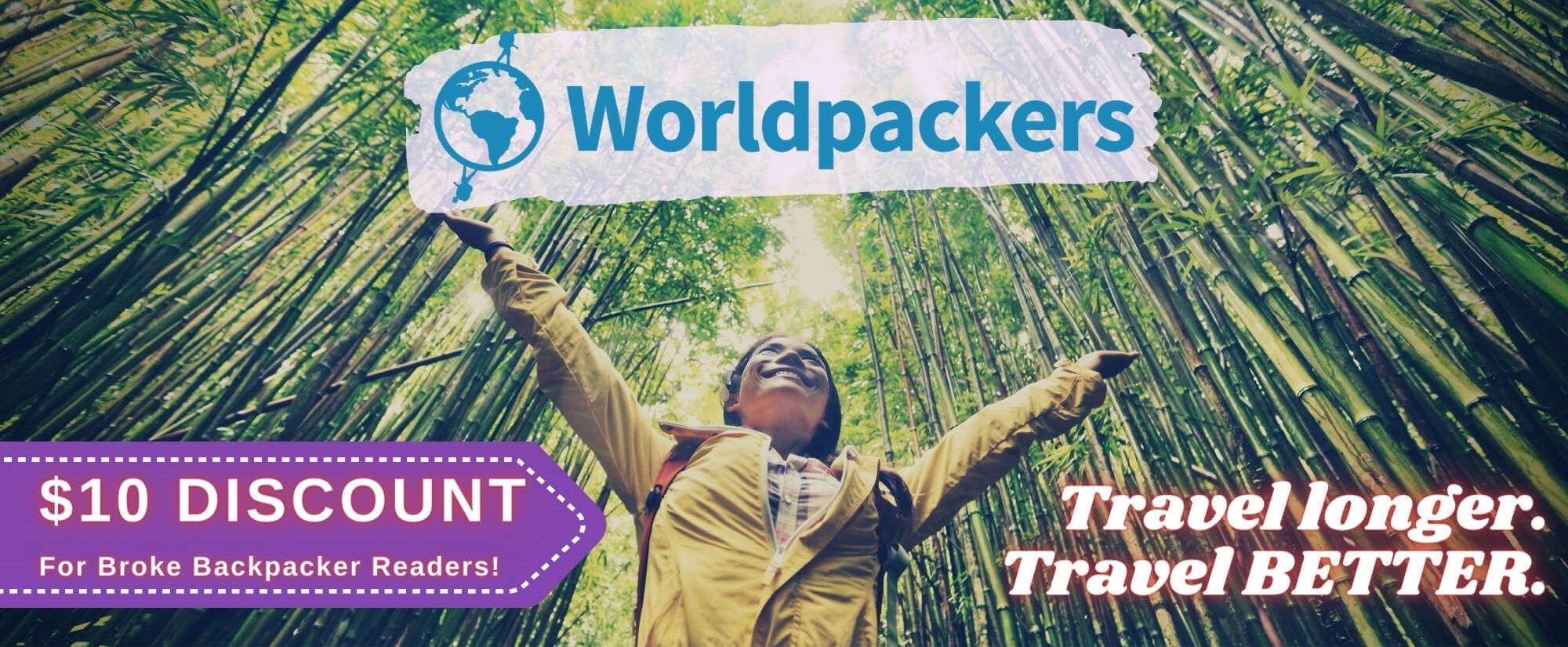 Worldpackers: connecting travellers with meaningful travel experiences.
7. Eat even more local!
I love dumpster diving. I know that's a slightly weird statement but there's something very rewarding about subsisting on what others deem 'waste'. It's also another extremely viable way to eat for free while travelling on a budget.
Now, some people may turn their nose up at this and that's totally fine. Convincing someone to eat from the trash is a hard sell but it's not all leftover scraps.
Hitting up a supermarket skip or a bakery after dark can often net you some seriously good food that has no place being in the bin. There's also table surfing: eating the remainder of an unfinished meal at a restaurant or cafe before the waiter snaps it up (and bins it). You can either swipe it off the plate as you pass by or just go for the ballsy sit-down-to-eat manoeuvre (a personal favourite of mine).
In fact, you can even park yourself at a restaurant, buy a few coffees, and simply wait for the inevitable unfinished meals left behind by other patrons while you read a book or work on your laptop. This method works so well I often find myself overeating… for free… it's the best!
You can check out our guide on dumpster diving for even more backpacking tips and tricks on how to eat for nothing. But it is something I highly recommend, especially if you're planning on travelling for a long time.
Dumpster diving in countries with a high risk of catching something that will leave you toilet-bound for four days is not the cleverest idea. However, dumpster diving in more affluent countries (especially in tourist hotspots) is so fun; you'll find heaps of cool shit other than food. My best score in New Zealand was a pair of shoes which I'm still using now nearly two years later.
Think of the savings!
8. Don't fly like a fool!
Planes suck. They're expensive, they're stressful, and everyone on board always has a silently-hating-life vibe. That said, airports are excellent for dumpster diving!
But that's not what we're talking about! Dumpster diving was the last budget backpacking tip. Now we're talking about flights and how to get them cheaper (super relevant information for travelling around the world on a budget).
There are a lot of backpacking trade hacks for getting cheaper flights from keeping a vigilant eye out for the appearance of error fares to more nuanced tips to shave some dollars off (browse in incognito mode). There is a lot of info to take in if you're going to get a little slice of revenge by undercutting the airline services.
So, yeah, in conclusion, planes suck and there are ways to make them suck a little less.
9. Partner up!
Finding a travel buddy goes a long way to lightening the load on your budget. Think of all the costs that get halved: tuk-tuks, rooms, hash, dessert (if you're a weirdo dessert sharer).
You also get the added bonus of having a friend… having a friend is nice! Bonus points if you hitchhike across a country together (nothing quite solidifies a friendship like a big journey together).
Now, travelling with someone is a whole other kettle of worms (I've botched that saying, haven't I). A travelling relationship or travelling as a couple can often be as intense, and deep as they are rewarding. There will also be days where you want to push them off the nearest bridge… and that's what makes them a true friend!
We've got a nice piece here on finding a travel buddy and the ins and outs of travelling relationships. There are heaps of online services to meet up with someone from Couchsurfing right down to Facebook but I'm one of those old-fashioned 'Tinder is dumb; I just want to meet someone organically' folks.
You can't rush these things. Let it play out and the right person – the one you don't want to garrote with your shoelace two days into your travels together – will come. You'll know it when it happens; usually, the spark is over a well-rolled joint and a sincere desire to live as dirt-cheap as humanly possible.
10. Take the hard road!
Sometimes our travelling life presents us with a choice. You can hail a taxi or walk an hour. You can catch the expensive VIP bus today or sleep overnight at the bus station and catch the local one tomorrow morning. Sure, you could keep drinking coffee in a country where coffee is $5 a pop or you can just quit for the time being.
Sometimes you're tired, you're burnt, and you don't rightly care… and that's totally fair. Taking the hard road is tiring. It's also, generally, cheaper.
I saved a healthy amount of cash washing my clothes in the rivers with the locals rather than relying on the laundromats. I've similarly kept my clothes alive long past their use-by date by patching them up with needle and thread repeatedly. Sometimes, I get drunk, sew, and listen to tunes; I call it a 'Me Day'.
You don't necessarily have to bludgeon yourself into a cheaper backpacking holiday. Creature comforts are extremely important when you're budget backpacking: treat yo'self! But just stay aware of the all the little savings in cash you can make if you paid attention, showed a little ingenuity, and, sometimes, served yourself a teaspoon of cement…
There comes a time in every broke backpacker's life where they enter a stage of quiet reflection. A state of pensiveness. The broke backpacker seeks for something more; they seek to put together the pieces of the puzzle that they've found so far.
What am I talking about? You'll know it when you hit it. Its prominent features include deep soul-searching and an earnest desire to harmonise the past, present, and future.
And when that time comes, you may decide to return to the budget backpacking life. You may decide that home is finally the best place for you. Or, you may start looking at different ways to travel.
The Ethics and System-Shock of Budget Backpacking
You may, at some point after you go backpacking on a cheap (indefinite) trip abroad, experience a shift in outlook. Don't worry, that means it's working as intended.
For me, the shift came sometime after India or Myanmar. After a rather sizable amount of time kicking around New Zealand and Japan and coming away with a rather, let's say, sunshine-lollipops-and-rainbows view of the world, the truth of the reality's weight began to sink in after seeing the third/second-world. I didn't strictly want to be broke-ass backpacker anymore.
I mean, I still wanted to do the dirtbag stuff: I live for that shit! But the broke mindset wasn't working for me anymore. Refusing beggars and haggling with shopkeepers over what amounts to 50c for me – it wasn't spiritually fulfilling.
The game of budget backpacking is so much fun: it's a challenge! But seeing the vast inequality of this world taught me something about – and I'm gonna use this word once and not mention it again – privilege.
What am I saying? All I'm saying is go broke backpacking and have a damn good time doing it but don't get lost in it. My ethics are mine and yours are yours; everyone gets to do them and we are freedom.
But give what you can, if you can. Share your food, shout your hitchhike ride lunch; leave a present, joint, or even a kind note behind for someone who puts you up. The Maori call it a koha – a gift of what you can provide that doesn't, in turn, weaken you.
Just remember how lucky we are that we get to broke backpack. We are freedom, but we are not all equally freedom.
Different Ways to Travel: Teaching English
Right, so that was maybe a little too deep! Where'd my emotionally-detached sarcastic sense of humour go? Oh sweet, it's right here where I left it along with my trust and emotional intimacy issues – perfect!
Maybe that was a touch too deep but it's also the perfect way to segue into the last topic I want to discuss: looking at different ways to travel. Welcome to the working traveller.
"I want to travel the world and get paid!" Whoa, Nelly, slow down! That's certainly possible and we can certainly do that but it's gonna take a bit more work than just a declaration of intent.
First, we have what is, I'd argue, the most accessible and successful path to entering digital nomadacy: English teaching! English is an extremely valuable tool in this world and can take you extremely far. Finding consistent, well-paying work teaching English in other countries is super possible and a brilliant way to earn money while backpacking. You can even take it one step further teaching English online and, well done, you're officially a digital nomad – the holy grail!
So, how do you get started travelling the world and getting paid teaching? Well, you need a TEFL degree; that's your golden ticket to pretty much anywhere. Luckily for you, you can get a TEFL degree online through MyTEFL. Enter the code BACKPKR to get a 35% discount on your course and you're away!
With that, it's not too hard a leap into working as a teacher while travelling. I've got friends who've done it in Vietnam, Morocco, Thailand, China, Japan… Seriously, it's a golden ticket.
Different Ways to Travel: The Holy Grail of Digital Nomadacy
I use the term 'holy grail' somewhat facetiously. Is it an awesome lifestyle? Fucking oath, it is. Is it easy…?
AHAHAHAHAH!
Being a digital nomad  is one thing. Being a successful digital nomad is another thing entirely.
First, you'll need to find a travel job (this is our mega list of travel jobs). This means finding and honing your niche. For example, I seem to be relatively decent at putting words on a piece of paper in an order that sounds good (yup, there's the emotionally-detached sense of humour). And now, here I am, doing this.
Once you know what you're chasing, you've got to chase it… all the way to the moon. The good thing is, at this point, you're a level-10 broke backpacker. You know how to backpack cheap and live for almost nothing. And, you also know the true value of ten grand.
You know that if you take a few grand with you to Asia and set up in a jungle with Wi-Fi somewhere you've just bought yourself a considerable amount of time towards making your dream a reality.
Will it work? Everything is impermanent and the only constant is change as far as I'm concerned; it can go any way it damn well pleases.
But I do know this: it's possible, people dumber and less deserving than you have successfully done it, and a willingness to try – succeed or fail – is a truly admirable quality.
One thing that's worth mentioning – it really pays to spend time in a digital nomad hub, like Bali, Chiang Mai or Lisbon. Staying in a digital nomad friendly hostel is a smart investment too as you'll be surrounded by likeminded souls looking to mix the thrills of backpacker life with the hustle of entrepreneurship…. there's only a few hostels really set up like this at the moment, and the best one is definitely Tribal Bali.
Whoa, crap, man! What a damn journey! What started off as a simple remastering turned into a whole bloody manifesto!
Today we talked about how to travel on a budget or even for free. We talked about transitioning to the life of a digi nomad. Hell, we even talked about ethics! Solid job, man; I'm proud of us!
If, after all that, you don't feel prepared to go backpacking around the world with no money, then I don't think there's anything else I can do for you. You're probably better off just booking a Contiki tour in Thailand or something.
But for everyone else, welcome to the greatest decision you've ever made: to be a broke backpacker. Maybe that sounds like a joke, but it's not.
Once you step off that plane in a foreign country for the first time…. Once you've hoisted that backpack for the first time… It's the start of your brand new life.
There ain't no backwards, only forwards; you can never step in the same river twice. I'll tell you what I tell any friend of mine when they're in a moment of self-doubt.
Charge it.
---
And for transparency's sake, please know that some of the links in our content are affiliate links. That means that if you book your accommodation, buy your gear, or sort your insurance through our link, we earn a small commission (at no extra cost to you). That said, we only link to the gear we trust and never recommend services we don't believe are up to scratch. Again, thank you!